Rock Star, Barman, Millionaire or Bodyguard? Take the A Girl Walks Into a Bar Quiz
With the release of the A Girl Walks Into a Bar eBook just around the corner (15 July) the Little, Brown Book Group, whose imprint, Sphere, is publishing the book in the UK, have shared a taste of what to expect with a quiz.
The erotica series is written by Paige Nick, Sarah Lotz and Helen Moffett, under the name Helena S Paige and will be out in hard copy on 15 November.
Start off by deciding whether or not adventure is your middle name and let the quiz lead you to one of four men: a rock star, barman, millionaire or bodyguard. Click on your choice to read a steamy excerpt from the book: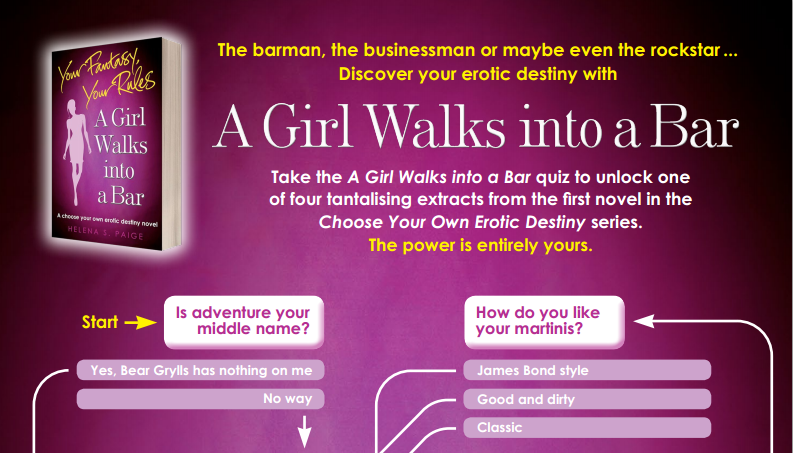 You've chosen the Rockstar
'The rules to doing a body shot are simple,' he says, leaning towards you, and there's that knowing grin again. You're so close you could almost kiss him. 'I hold the orange in my mouth and you can put the salt wherever you want on my body, right? Then you lick the salt off me, down the shot and bite the orange out of my mouth. Wanna do one?'
You've chosen the Barman
You decide to take the plunge: 'Xavier, would you like me to change all of that?'

Your words hang in the air between you, and you add, 'If you've never had sex before, at least I could show you where to start.'
You've chosen the Businessman
Wow. You stand in the double-volume entrance hall, attempting to take in what you're seeing. Miles's house is a masterpiece of understated luxury – it looks like it's about to be photographed for Minimalist Design Weekly. The white walls showcase an eclectic mix of art. There are beautiful classic pieces, mixed in with the kind of modern art you've always suspected a two-year-old could do, even though you're sure each one of these is worth the GDP of a small country.
You've chosen the Bodyguard
'Okay if I have my car back now?' he rumbles with a grin.

You make a show of being deeply reluctant, but the truth is, as much as you loved handling the beast, you're looking forward to sitting back and watching those muscles work their magic through the gears again.