Michiel Heyns Follows Lost Ground with Invisible Furies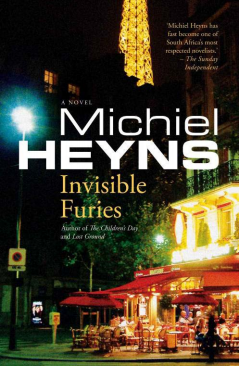 Following on from the critically acclaimed Lost Ground, award winning South African author Michiel Heyns turns an ironic eye on the most seductive city on earth, Paris, in Invisible Furies.

After a thirty-year absence Christopher Turner returns to Paris. He is here to extricate his best friend's son from the mercenary machinations of some Parisian gold-digger – or so it is assumed, at home in South Africa. Christopher, with melancholy memories of Paris, is deeply ambivalent about the city; and, as for the young Eric, Christopher remembers him as a brutish lout with little to recommend himself.
But both the city and the young man take Christopher by surprise: far from having been corrupted by the place, Eric turns out to have been immeasurably improved by it. The spoilt son has become a considerate and attentive host with charming manners. Furthermore, as Christopher is gradually introduced to Eric's associates, he finds to his dismay that he likes them – above all, the beautiful Beatrice du Plessis, in her day a supermodel, now the mother of a young daughter apparently destined to follow in her mother's footsteps. And Paris exerts her spell anew…
As Christopher comes to know and enjoy this ambiguous world, he finds his moral categories challenged: is beauty a trap for the innocent young, or a self-validating, even ennobling attribute of a fully lived life? Responding to the gentle appeal of Beatrice, he feels ever more strongly that the young man's place is in Paris with her, rather than on his father's farm in Franschhoek. But Eric has ideas of his own…
Exploring, as in the widely applauded Lost Ground, the tensions between the fatherland and a larger world, Michiel Heyns traces with humour and insight the invisible furies of the heart.
Earlier this week, Invisible Furies was announced as one of the 29 titles on the 2012 Exclusive Books Homebru list. Michiel Heyns will also be appearing at the Franschhoek Literary Festival in May.
Praise for Michiel Heyns
"So much more than just great storytelling. It is Heyns' mastery of language, his wonderful sense of place, and deftly drawn characters that make his books superlative." – Deon Meyer
"Michiel Heyns has fast become one of South Africa's most respected novelists" – The Sunday Independent
About the author
Michiel Heyns is the author of five previous novels: The Children's Day, The Reluctant Passenger, The Typewriter's Tale, Bodies Politic and the critically acclaimed Lost Ground. He is also an award-winning translator. He was until recently professor of English at the University of Stellenbosch.
Book details