How to Write About Sex: Interview with Richard Mason on History of a Pleasure Seeker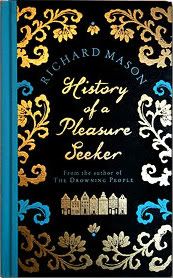 Richard Mason, the precocious author who made his literary début at the tender age of 19 with The Drowning People, spoke to Jane Ciabattari of The Daily Beast about his latest novel, The History of a Pleasure Seeker.
In the interview, Mason talks about the difficulties of writing about sex, saying that most writers of literary fiction (with a few exceptions) avoid writing about the details of sex. He says the difference between pornography and an erotic literary scene is psychology. Emotions have to be involved.
Mason revealed that he is currently working on a literary app to accompany the novel. It will provide the "sights and sounds" of the story, including narration by Downton Abbey's Dan Stevens. Mason also mentioned that he is currently writing a sequel to The History of a Pleasure Seeker, which sees the main character, Piet Barol, continue his sexual adventures, beginning in Johannesburg 1913:
When I sat down with novelist Richard Mason at Aroma Espresso Bar on the Upper West Side to talk about his fourth novel, History of a Pleasure Seeker, we talked first about the digital age—he's been developing a literary app to accompany the new novel—and organic farming.

"I've been living on a hillside with some twenty to thirty Xhosas," he said about the tent in the rural Eastern Cape of South Africa, his homeland, where he lives and works on a permaculture farming project funded with profits from his writing.
Book details
Photo courtesy The Booksmith